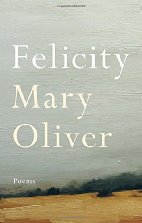 by Mary Oliver
ISBN: 9781594206764
Do I need Mary Oliver to tell me that "only if there are angels in your head will you / ever, possibly, see one"? The answer is yes, I will appreciate it if she does, in the closing lines of "The World I Live In".
Whether she is writing about embracing aging ("Cobb Creek"), letting go of possessions ("Storage"), falling in love ("I Didn't Think, Let's Go About This Slowly") or being grateful for having love in your life ("The Gift") she offers poems full of wisdom, but that don't take themselves too seriously. To underscore that last point:
Humility
Poems arrive ready to begin.
Poets are the only transportation.
—
I am not sure how much more there is to say about her latest book; if you enjoy her work you will enjoy this, and if you don't, well, this isn't a radical departure so it isn't likely to move you. I'm glad I read it and will no doubt return to it.