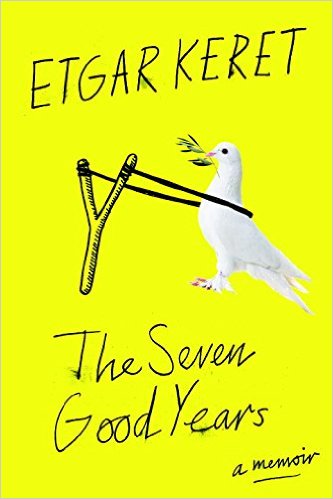 by Etgar Keret
Translated by Sondra Silverston, Miriam Shlesinger, Jessica Cohen, and Anthony Berris
ISBN: 9781594633263
I was interested in this book because I like Keret's short stories, first coming across The Bus Driver Who Wanted To Be God and other stories and later Suddenly a Knock on the Door. The same quick observations and eye for absurdity are present in these vignettes from Keret's life.
The seven years in the title refer to time between the birth of his son (his wife is delivering at the hospital in the aftermath of a terrorist attack, and Keret finds himself in conversation about it: "What kind of original thing can you say about an explosion and senseless death?") and the death of his father. There is talk about war and writing and making a living and making a life. Even Angry Birds comes up, and his mother takes it seriously:
"I don't understand," my mother said. "Did those infant piglets themselves steal your eggs, or are we talking about collective punishment here?"
The book opens with a terrorist attack and ends with sirens and taking cover. That turns out okay; that is regular life for Keret, his wife, and young son. That is very far removed from my daily reality. Yet the moments of truth in Keret's writing still resonate, as he finds hope in stories:
When I try to reconstruct those bedtime stories my father told me years ago, I realize that beyond their fascinating plots, they were meant to teach me something. Something about the almost desperate human need to find the good in the least likely places. Something about the desire not to beautify reality, but to persist in searching for an angle that would put ugliness in a better light and create affection and empathy for every wart and wrinkle on its scarred face. And here, in Sicily, 63 years after my father left it, facing a few dozen pairs of riveted eyes and a lot of empty plastic chairs, that mission suddenly seems more possible than ever.
If you are a fan of Keret's fiction you will probably like this. If you haven't read his short stories but are curious about his writing, this is a good place to start.