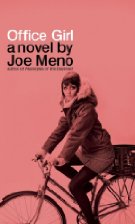 by Joe Meno
ISBN: 9781617750762
This novel takes place during a snowy Chicago winter in 1999. This means no one has a cell phone, or talks much about the internet, or the "new normal" of our economy. Odile and Jack, the twentysomething protagonists, talk about art and crappy jobs and wondering when or if what they think of as their real lives will start.
The things bored twentysomethings have always talked about, right? Only here it isn't annoying — maybe because it's the past and so we see the characters in action instead of watching them update Facebook with their suffering and ennui — it's charming, in that "can you remember when?" sort of way.
Really terrible things don't happen in this book and arguably really amazing things don't happen either, though you think and perhaps hope they will. (But I didn't want a sappy ending.) It's winter in Chicago and there is so much snow muffling the sounds of the city. Snow brings a certain quiet, a softness to sounds and temporary transformations of the landscape and this is the perfect setting for Jack and Odile, because they can't commit to anything too loud, anything beyond the temporary. They lack the ability, and mostly lack the willingness, but strugle on in hopes it won't always be the way it is now.
Reading their story reminded me of how, when you are younger, you can go to extremes to avoid what you think will be crushing embarrassment but really the actions you take to avoid it just make it worse. Meno supplies two alternate titles to Office Girl: Bohemians, or Young People on Bicycles Doing Troubling Things. I suppose either of these would have worked, though the actual title fits and conjures up a sort of wonder about the office girl. It's a wonder Odile should have about herself, but doesn't.
Interspersed with the text are photos from Todd Baxter and drawings from Cody Hudson, who if you are a Meno fan you will recognize from his story collection Demons in the Spring. I liked the additions, though the simple line drawings reproduced much better than the black and white photographs. I enjoyed reading this novel, as I did Meno's last (The Great Perhaps) but I am left wanting more stories. I want another collection like Bluebirds Used to Croon in the Choir, because I think Meno offers more sting and thought per page with them. Still, recommended.