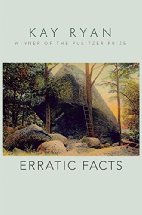 by Kay Ryan
ISBN: 9780802124050
I came across this interview with Ryan — I forget who originally pointed to the link — and was immediately intrigued.
Not being up on the latest news from the contemporary poetry scene, I didn't know she was named poet laureate… in 2008. (So now you know more about how much I don't know about contemporary poetry.) She seemed, according to this interview, pretty low key about it: "Being named poet laureate has granted Ryan a new degree of visibility in Fairfax. But, she says, 'Nobody's letting me cut in line at the post office or anything.'" The part of the interview that sparked my interest in reading her work was this:
People have trouble with my work because they want to say it's humorous the way Billy Collins's poetry is humorous, and that it's witty. But there's something else, this cartoony thing. When I read my poems to any audience there's a lot of laughing, but I always warn them that it's a fairy gift and will turn scary when they get it home.
Her style is what I expected from the way the interview talked about her work: short, clear, lingering. From early in this collection:
New Rooms
The mind must
set itself up
wherever it goes
and it would be
most convenient
to impose its
old rooms—just
tack them up
like an interior
tent. Oh but
the new holes
aren't where
the windows
went.
—
From later in the book, this:
Eggs
We turn out
as tippy as
eggs. Legs
are an illusion.
We are held
as in a carton
if someone
loves us.
It's a pity
only loss
proves this.
—
I had to return my copy to the library. I'll continue to read more of her work.