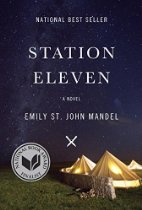 by Emily St. John Mandel
ISBN: 9780804172448
This is the best novel I've read this year. (I'm fine jinxing myself by saying this with three weeks left in the year. It would be amazing if I read another book as good in the next three weeks.)
I am torn about how much to say about the book… So I'll start with reasons I didn't originally pick it up. First, I'm not a Shakespeare fan. That may sound ridiculous, but it is true: with few exceptions, I don't enjoy reading Shakespeare's plays or seeing them or in most cases watching films based on them. So the idea of following a roving band putting on Shakespeare plays did not appeal to me. I share this because if you have a similar reaction to Shakespeare, you should know that isn't a good reason not to read the book. (If you already love Shakespeare, well then, you'll probably really like this idea.) Second, and this is less related to this particular book, I was wondering if I've just had too much apocalypse. Example: after last season, I decided I'd had enough Walking Dead. Enough grim, no hope, society has disappeared and won't be coming back stories.
This book is different. (To be clear: no zombies.) It does a lot that in theory shouldn't work, like jumping backwards and forwards in time, and weaving many disparate characters's storylines into the same fabric. Only it works remarkably well.
Station Eleven is the kind of novel that when you aren't reading it, you are thinking about it. The world of the book takes up space in your head, and you start planning the rest of your day around when you can start reading it again, and then before you know it you've finished it. And if you are me, you don't want to pick up another book for at least few days because this one lingers.
The line that is so important in this book isn't from Shakespeare, it's from Star Trek. I loved that about it, too: survival is insufficient.
Whether or not you want to read apocalypse fiction, whether or not you want to read about a flu pandemic, or can imagine comics being a lifelong artistic pursuit, or like actors, this is still a good book. If that line — survival is insufficient — speaks to you in any way, you should read this. Highly recommended.