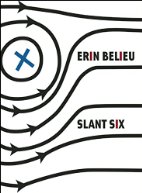 by Erin Belieu
ISBN: 9781556594717
I've been trying to read more poetry this year, so I when I saw this at the library I was intrigued and checked it out.
Belieu's poetry is about here and now and so-called ordinary every day American life. In "Someone Asks, What Makes This Poem American?" Belieu reminds us:
We need
our artists everywhere,
not scrunched up
in one or two rarefied spots
And these lines make sense, even as you understand the desire to be in a rarefied spot.
In "H. Res. 21-1: Proposing the Ban of Push-Up Bras, Etc." there's a further, different plea for sanity and self-acceptance:
We must learn
to want each other
in direct sunlight,
no more or less than
what we really are
If perhaps you think poetry isn't your thing, or that you wouldn't "get it" Belieu's work may get you to reconsider. What cat person would not smile at these lines from "The Problem of the Domestic": "and petting the cat because / you're a stooge for her slutty ways".
At this point in my reading, I'm thinking yes I have to return this book, but I'm going to need one for my bookshelf.
She just does so much: anger and acceptance and bewilderment and humor, sometimes all in the same poem, as with "Poem of Philosophical and Parental Conundrums Written in an Election Year". This is an excerpt, which I love because she recognizes the whole if you don't have kids your eyes do roll sometimes, yet you can still understand:
And there are those

who may be reading this poem,
those people without children, or
those, I should say, who choose not
to have children, you might be impatient

now that Jude has appeared here to make
his meaningful pronouncement, and I
get how tedious it is, listening to those

who choose to have children
drone on about the stupidity of standardized
tests and the difficulty in finding authentically
organic apple juice; but I beg your patience and

ask you to imagine how unnerving it is to be
responsible for these weird beings who rarely
do anything you'd expected when you were
reading What to Expect When You're Expecting;

how we're suckered into thinking this kid stuff
is a science when really it's the most abstract
art form, like you're standing in a gallery at

MoMA, staring at an aquarium in which float
three basketballs, and the piece is titled
Aquarium with Three Basketballs,

and you're looking at others in the gallery
considering the basketballs and they don't look
as if they're having some cross-eyed internal
struggle, and you're sweating a little

and embarrassed, thinking,
There's a message here that I'm not getting
I feel like I've found another poet whose work I'll continue to be interested in.