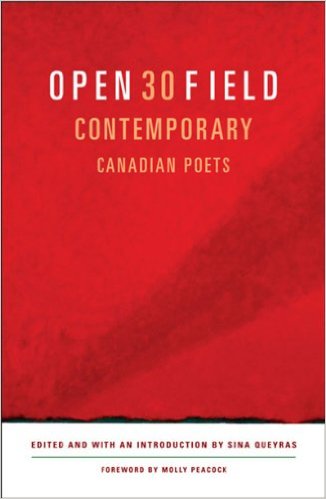 30 Contemporary Canadian Poets
edited by Sina Queyras
ISBN: 0892553146
There's something to be said for reading the right book at the right time. In this case, the right time for me turned out to be ten years after I first picked up the book on a trip to Toronto.
Yes, I've had this book hanging around my house for ten years, unread. I'm not sorry or embarrassed; part of keeping a library (and not just books) in my house means I've always got something different, unread, and newly necessary to hand.
I appreciated that it is collection of good Canadian poetry in the early 2000s (it came out in 2005), which gives it a different feel than the "best of" for a particular year. For one thing, it means you get to spend time with poets, instead of a singular focus on one particular poem by a particular poet.
Every name was new to me as a poet (I'd read Margaret Atwood, but not her poem) and most I had never even heard about. So there was a lot to discover: Atwood's poetry, Anne Carson, Lorna Crozier, Sonnet L'Abbe, Fred Wah, Jan Zwicky. Don McKay's wonderful opening line: "Sleep, my favorite flannel shirt, wears thin, and shreds, and birdsong happens in the holes." I searched out books by Susan (Sue) Goyette based on the poems included here. I can't remember the last time I've done that, or even if I've ever done that, with a poet. Here's the one that made me realize I would be investing more time in her work:
The True Names of Birds
There are more ways to abandon a child
than to leave them at the mouth of the woods.
Sometimes by the time you find them, they've made up names
for all the birds and constellations, and they've broken
their reflections in the lake with sticks.
With my daughter came promises and vows
that unfolded through time like a roadmap and led me
to myself as a child, filled with wonder for my father
who could make sound from a wide blade of grass
and his breath. Here in the stillness of forest,
the sun columning before me temple-ancient,
that wonder is what I regret losing most; that wonder
and the true names of birds.
—
It isn't every day you find a book you've been holding on to has been so worth it; I'm grateful. Highly recommended.