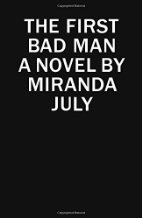 By Miranda July
ISBN: 9781439172569
When I heard Miranda July had a novel coming out, I was disappointed.
I loved No One Belongs Here More Than You. I was hoping for another collection of short stories. I know, I hear novels sell and stories don't, but I belive that is more publishing industry bias than reality. Or, you know, a self-fulfulling prophecy.
The characters in July's stories were quirky and strange and relatably human. I am not sure anyone is willing to admit to relating to the characters in her novel. I'd say that is probably not the point: you'll recognize types and it isn't hard to imagine this would be the behavior of those folks behind closed doors, with their internal editors off. They don't know they are being outrageous, or they don't care. For the most part, they aren't very likeable. Again, not really the point.
What if people really did live that way? What if they were that driven by their obsessions? What if our better judgement rarely got in the way of trying to reach for what we think we wanted? Yeah, that probably would be messy and awkward and even violent.
Did I like the novel as well as the story collection? No. And it didn't have the charm that It Chooses You held for me, either — though you could imagine some of those people being neighbors of the novel characters, or getting into a heated exchange with them in a grocery store aisle.
People are appalling. Sometimes more than others, sometimes even when they aren't trying to be. July has a knack for recognizing how bizarre people can be.