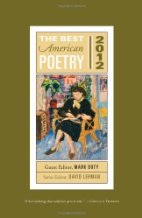 edited by Mark Doty
ISBN: 9781439181522
In the introduction, editor Mark Doty writes:
To what extent to we understand the process that calls a poem into being? Someone or something comes to us in the dark — literally or in the darkness of not-knowing — and says "Sing me something." It's the uncovering of what is to be sung, and how, which are not two separate things but an intertwining spiral, like a DNA molecule, that gives the process its tension, frustration, and at least sometimes, elation.
So he does his job, as you'd expect him to, enticing you to read what follows.
Collections are often uneven; my hope is that I will find a few new to me voices that I want more of, not that I will like most of the poems. I just need a few to really speak to me.
The ones that stood out to me were Jenny Johnson's "Aria", Michael Morse's "Void and Compensation (Facebook)", Mary Ruefle's "Middle School", and Larissa Szporluk's "Sunflower" and its "hooligan owl".
I read all the bits in an anthology, even the bios in the back. This time, I learned from Jane Hirshfield's of D. W. Winnicott's description of childhood: "It is a joy to be hidden, but a disaster not to be found."
All of which means yes, I think this is worth reading.