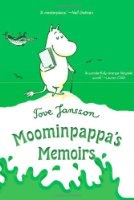 by Tove Jansson
ISBN: 9780312625436
My initial impression of Moominpappa was not favorable: he seemed a bit insufferable and full of himself.
Turns out Moominpappa is a bit insufferable and full of himself. Interestingly, he seems to know this. Moominmamma knows it too, as do the kids — it is a joke everyone is in on. So he's prone to melodrama, and his recollections are not entirely trustworthy, but learning about Sniff and Snufkin's parents and how the Moomins met was good.
It surprised me that Jansson chose to devote so much time to a not so likeable character. Not that he's outright disagreeable; Moominpappa is aware of his faults, so while he is irritating you generally forgive him.
I'm still looking forward to the next Moomin book. Maybe there'll be more Groke.