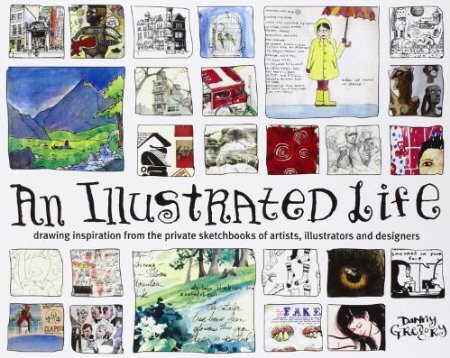 Drawing Inspiration from the Private Sketchbooks of Artists, Illustrators and Designers
by Danny Gregory
ISBN: 9781600610868
I picked this up after many of my Sketchbook Skool "klassmates" referenced and recommended it. Danny Gregory — cofounder of Sketchbook Skool — put together this collection of artists' work and their reflections on their processes. (As it turns out, several of the SBS teachers are included in it.)
The book includes the work of about fifty artists; some are professional illustrators, others are cartoonists, and some have non-art day jobs. If you've ever wondered "how do they do that?" of creative types, this book is probably for you. It doesn't provide detailed step by step instructions; instead it offered a peek inside the heads and sketchbooks of practicing artists.
I found it most enjoyable to dip in and read the entries for or two or three people, then put it down and come back later. I didn't read the book in order — I thumbed through and stopped when something grabbed by attention — only going through from front to back to make sure I didn't miss anyone.
I learned people draw or keep sketchbooks for all kinds of reasons: to notice "the blessings I need to count to give myself meaning"; "to unwind and possibly to learn"; for inspiration, to be happy, to develop and maintain the chop of "instinct". One said their sketchbook was "a pocket-sized vacation."
As a relatively new sketchbook keeper, I am very curious as to how others use their sketchbooks, what their art looks like, what techniques/mediums/tools people are using, and what the practice has meant to them. This book is a goldmine.
Highly recommended if you are interested in illustration, the creative process, and/or sketchbooks (whether or not you keep one — though this may inspire you to try).