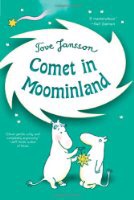 by Tove Jansson
ISBN: 978-0312608880
I was vaguely aware of the Moomins before reading this book; if you have spent any time at all in either the illustrated children's or comic book section, the Moomins can't completely escape your notice.
The references to Moomins finally built up to the tipping point, so I decided check them out. Comet is one of the first Moomin books. It was not, as I had expected, an illustration-first story, but a young adult novel with some black and white line art.
I'm not sure how to describe Moominland to the uninitiated. I barely feel initiated myself. Perhaps the best way to sum up this book is to say that it is the most lighthearted take on the apocalypse I've ever read. (The comet in the title is hurtling toward Moominland and results are expected to be disastrous.) Yes, it's a children's book, but it is different and not the same predictable, formulaic story.
It has a little bit of everything: doom, philosophy, young love, devotion, exploration, discovery, obsession, self-interest, and catchphrases ("Well, strike me pink"). One of the more self-interested characters, Sniff, has this exchange with Moomin:
"Don't disturb me," said Sniff slowly.
"This is the biggest moment of my life so far, and it's my first cave."
Either you think this kind of thing is charming, or you don't. I did. There was also an illustrated character list at the beginning of the book, and I found myself disappointed when all the characters didn't show up. (This edition of the book is part of a series, so the character thumbnails must be intended for the whole series.) My disappointment will probably be short-lived, as I intend to read more Moomin.
How could I not want to meet Little My ("The family's small, disrespectful, yet extremely positive friend") or the Groke ("The terror of everyone, the unmentionable horror")? I've just barely been introduced to the Moomins, to Jansson's line art and storytelling. I want to get to know Moominland better.