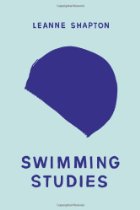 by Leanne Shapton
ISBN: 9780399158179
Shapton has created a memoir focused on swimming, mainly but not entirely concerned with her years as a competitive swimmer. I am saying created and not written because in addition to the text, she has included watercolors and photographs. Combined, these elements make explicit the layers that are always present in good memoirs.
What is interesting to me about Shapton's recollections isn't just that she can go back in time and recreate teen years or early twenties (I'll assume her recall is sharper than mine, or frankly than I'd want mine to be) but that there are not the sort of obvious high or low points we've all been led to expect in a memoir. She was not, in fact, an Olympic swimmer. There is no major family crisis.
What there is, is swimming, and drive, and questions. What does success mean? What is quitting? What are the limits of determination? What, really, does it mean to be good at something, but not great? How do you let go of who you used to be, or are you just letting go of what you used to do? What's the difference?
Shapton shares stories with an easy flow, taking more pleasure in the language than in forcing dramatic arcs. She is an artist, illustrator, art director, co-founder of J & L Books, a swimmer, and a writer. I look forward to seeing what sort of book project she creates next.