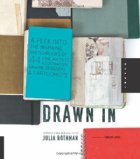 A peek into the inspiring sketchbooks of 44 fine artists, illustrators, graphic designers, and cartoonists
Presented by Julia Rothman
ISBN: 9781592536948
I've always been fascinated by sketchbooks. I don't have a history of keeping one, which isn't to say I've never had one; I probably have two or three in the house right now. The objects themselves — empty pages full of potential — have caught my eye in the stationery or art supply store more than once and made the trip home with me.
I've been intensely curious: what do artists really do with sketchbooks? This book shows us, with people sharing pages from their sketchbooks and answering questions about their practices. There are all kinds of juicy specifics about the books as objects (brand names, sizes) and about how they are used (how often, as precursor to finished work, things for clients or personal work, media used).
There were some common threads (experimentation, working out ideas) in the answers, and in the media used, as well as surprises like balloons taped into pages. Rather than being an anthology striving for consistency in content, variety is part of the fun. For each contributor, there is a brief bio, the answers to four or five questions, and a half dozen or more spreads from his or her sketchbook. I like how the art is reproduced — images aren't cropped down from the books, but rather show the whole book — with page edges or bits of the inside covers visible.
I was familiar with a few of the artists (Sophie Blackall, Camilla Engman, Anders Nilsen) before, and have found new folks to watch out for (Sarajo Frieden, Mike Lowery, Lauren Nassef, Julia Pott) in reading this. Mostly I enjoyed peeking inside where you don't usually get to see — several of the artists talked about how their sketchbooks were generally private — and imagining the mind/hand at work in the pages.
Before this was an idea for a book (a great idea, in my opinion) it was an idea for a website, Book By Its Cover. I love to see someone's labor of love online turn into a wonderful, tangible object. I'm a web geek, but I'm also a book nerd. The title works on two levels: as a description of the sketchbooks, and how this collection will make you feel. Definitely recommended.