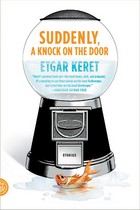 by Etgar Keret
ISBN: 9780374533335
Stories translated by Miriam Shlesinger, Sondra Silverston, and Nathan Englander
Do you like short stories with a bite? Absurdity cranked to 11, yet things seem more real than ever? Then Keret's stories are worth your time. Talking goldfish, unzipping people, and the Cheesus Christ restaurant chain aren't part of our real world but are real when you are reading the stories.
I've been a fan of Keret's work since reading his earlier collection, The Bus Driver Who Wanted To Be God and Other Stories. I find him difficult to talk about as a writer, because it seems in part that you spoil the oddity and magic of the stories if you try and explain what makes them compelling.
Can you imagine a land where our lies are real flesh and blood people? Where being with Christopher Robin is hell? Where you keep the necessities for a chance at happiness in your pockets? Etgar Keret can. Highly recommended.