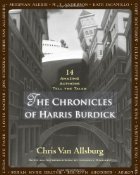 Fourteen Amazing Authors Tell the Tales
by Chris Van Allsburg
ISBN: 9780547548104
I loved the idea of this book: the enigmatic Burdick tantalizes publisher with excerpts from illustrated stories, then vanishes. Different authors step forward to write the stories that match the images and snippets of text.
The authors include some major names inside (Kate DiCamillo, Louis Sachar, Lemony Snickett) and outside (Gregory Maguire, Sherman Alexie, Stephen King) the world of children's literature. Allburg, of course, has provided all the illustrations and these are the most consistently high quality parts of the book.
As with most collections, the stories are a bit uneven. Not only are some more engaging that others, but they don't seem to be aimed at a consistent age group. Not necessarily a problem, but something to be wary of — some stories may be too creepy (or too boring) for younger readers. I liked M.T. Anderson's "Just Desert" the best, and would definitely put this in the creepy category.
I borrowed this book from a library. Given space constraints at home, we've reached the "book goes in, book goes out" stage. On that scale, I'd rate this as a borrow but not a keeper.