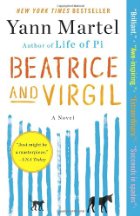 by Yann Martel
ISBN: 9780812981545
This book should not work.
It isn't that Martel can't write: he clearly can. The early The Facts Behind the Helsinki Roccamatios is good, and Life of Pi is magical — a magically tough act to follow, one would think.
So, Martel follows it up with a novel that shouldn't work. It's too meta — the protagonist is a writer who stalls out after a major success. Henry has an idea, a powerful idea, but he can't seem to write it in a way so that others can grasp the power of his idea.
How do you write about the Holocaust? How do you write about anything else in a world where the Holocaust happened? That's right: Martel doesn't go for easy questions, he goes for the big ones, and in this story he is Henry — writing not obviously but obviously about the Holocaust. See how it shouldn't work? And I haven't even mentioned yet that the main part of the story is a play featuring talking animals: a donkey (Beatrice) and a howler monkey (Virgil). The play's author is a old man, a reclusive taxidermist, and it is his life's work.
The language is what you'd expect from Martel, which is to say it carries you along and occasionally stops you in your tracks because it is so good. Taking a line out of context ("Those who carry a knife and a pear are never afraid of the dark") risks robbing it of its power. Martel is a master of context.
That's why he can write a book that shouldn't work — because it is too meta, the subject matter is too difficult — and make it work. It works, from the opening pages, to recounting a little-known Flaubert story, to Henry working with the taxidermist on his play, to the twist that is surprising and a bit sickening, to the impossible games at the end. It's about important questions, about matters of conscience, and how the answers are not easy — and they aren't supposed to be.
It's the kind of book that will make you cry in public, if that is where you are when you are reading it. It is disturbing. It is absolutely worth reading.