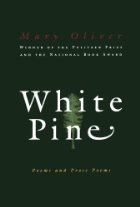 by Mary Oliver
ISBN: 0156001209
Not too long ago, I decided to spend my Sunday morning sipping coffee and reading poetry. It turns out, this book was just the right thing for me to read.
I don't read poetry all that often. Probably the last complete book I read was Oliver's Dream Work. This didn't have a "Wild Geese" or "The Journey" in it, but it did have have moments that caught me, and poems that made me stop and think and reread and feel.
Some of the lines that grabbed me were:
"To pay attention, this is our endless and proper work." (from "Yes! No!")

"perfectly finished, perfectly heartbroken, perfectly wild" (the last line from "In Pobiddy, Georgia")

"I'm going to be happy, and frivolous, and useful." (from "Fletcher Oak")
I lingered over different poems: "Hummingbirds" and "Snails", "Porcupine", "The Pinewoods", "December". Looking at that list of titles, I realize that though I am a city person now, I did grow up in the country, and something in Oliver's writing speaks to my early (and continued) wonder at the the animals and plants around me.
And because I can't help but quote one more thing I loved, I'll share this from "At the Lake":
Inside every mind
there's a hermit's cave
full of light,

full of snow,
full of concentration.
One thing I think I've learned is that I should set aside more mornings to sip coffee and read poetry. It seems, now that I think about it, a necessary luxury.