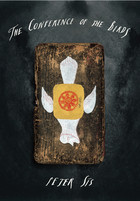 by Peter Sís
ISBN: 9781594203060
This books is a beautiful object. Of course you'd expect the illustrations to be wonderful (and they are stunning) but Penguin went the extra mile and provided pages with a wonderful texture to them (literally) and made the book just a bit larger format than a hardcover usually is. The story is Sís's interpretation of the twelfth century Persian poem. I am admit to not knowing anything about the original source when I picked this book up.
So I'd say you don't need to know anything beyond what you find in these pages to enjoy the journey Sís takes you on. The poet is transformed into a bird, and leads the birds on a quest, though "the birds realize that this will be a difficult journey and are reluctant to give up their comforts." They attempt to cross seven valleys: the valleys of Quest, of Love, of Understanding, of Detachment, of Unity, of Amazement, and of Death. There is risk, uncertainty, doubt, fear — and determination, recognition, and faith.
If you are already a fan of his work, don't hesitate to pick this up — though know if you usually buy his books for little people, children are not the primary intended audience for this book. (Not that it would be bad for kids… and older readers may appreciate it.) If you are drawn to Muth's Stillwater panda books, or particularly his Three Questions, this will probably resonate with you as well. Definitely recommended.