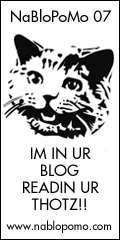 Perhaps lack of sugar is affecting my brain. (Did I mention, I'm doing this two week experiment of not eating sugar? Or refined flour. Basically, if it's a yummy snack, then it's out. I have not actually thrown a tantrum or had a seizure yet, but I'm only halfway through.) But I just could not resist the pull of this goofy kitten and the idea of posting here every day next month.
I don't think I've ever posted every day for a month, and this blog is nearly 6 years old. So it will be a challenge. I figure it will be good for me: I'll write more, I'll post more, I'll feel less guilty about not posting, I might even bring back the posts about odd animals. There could be thoughtful analysis of current web activity. I could blog about my cats every Friday. Or not… we'll see.
So if this sounds like goofy fun to you (or at least an activity compatible with your mental health issues) head over NaBloPoMo and sign yourself up. NaBloPoMo is for you if you are not quite deranged enough for NaNoWriMo, or need to avail yourself of InaDWriMo. No, I'm not kidding, I signed up. If nothing else, the web geek in me wanted an excuse to play with Ning, that build your own social site for anything platform I keep not bothering to play with. I should've known it would suck me in eventually.
Also, and possibly unfairly, I blame my involvement in this on Thinkery, because I learned about it from reading her blog.