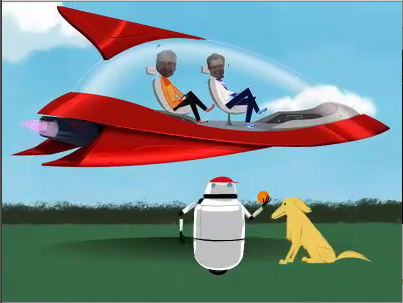 I learned this from the Spaceship Earth ride in Epcot, which has been refurbished and is a lot of fun. Geek thrill: man in garage creating the future computers for regular people.
Other things I realized/remembered on vacation:
Disney employees ("cast members") must go through the best customer experience training on earth. They are friendly, polite, helpful and they all seem to genuinely care that I'm having a great time.
It is possible to do public transit well. As compared to Boston's MBTA, Disney's vehicles are clean, well-maintained, show up at regular intervals, and arrive where they are supposed to without delays or interference from "traffic up ahead".
I don't need my computer or phone or the television (other than quick checks of the weather channel on mute) on vacation. For me, the whole point is to get away, relax, and disconnect from the daily routine. I'm not worried I'm going to miss something by not checking my email or twitter or facebook; I'd rather not miss the experience I got away to have.
I'm never going to be too old to want to be told stories. Everything at Disney is a story, and you are surrounded by context that supports it. My favorite show at Disney (and it is hard to choose a favorite, with so many excellent ones, like the Festival of the Lion King) is Illuminations in Epcot. It begins with lit torches circling the lagoon in world showcase, and a booming voice tells us we are gathered "around the fire as people of all lands have gathered for thousands and thousands of years before us… to share the light… and to share a story" — then the torches are blown out, like so many birthday candles. It gets me every time.