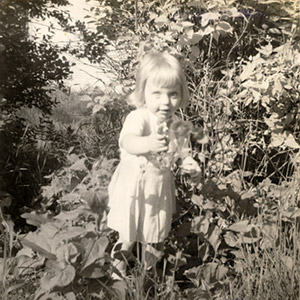 This was my mother's favorite photo of herself. She told me that when I was going through old photos, that last week, four years ago. It was one of several big black and whites picture I kept. (I have another of her playing on the floor with blocks, her parents are kneeling near over her. You can see my grandfather's cufflinks, and my grandmother is smiling and has a hand on her back, steadying her. It is so 1950s.)
I'm not sure how old she is in this photo, or where it was taken. Probably in the yard at the house on Lincoln Avenue. If I had to guess, I'd say she is about three, but I'm not really good at that kind of thing.
This other photo was taken in December 1975, Mom wrote the date on the back, along with the number 348. It was always her plan to reassemble the photo album she started when when I was small — the number is this photo's place — but she never got around to it, and now I have some of the numbers and my brother has some. I turned five that month.
I loved to build skyscrapers with my blocks. I don't know where I got the idea. I'm pretty sure there isn't a building in Gardiner, Maine more than three or four floors high.
I like to look at this picture and think it shows I was meant to be a city person. Probably not true, but I like the story. I don't know what my Mom told herself when she looked at the picture of her when she was small, but I know there had to be one.
Four years seems like both an impossibly short and impossibly long time. I still miss Mom, of course, but it isn't as sharp all the time. So I can look at all the old photographs again.